cPanel allows you to host multiple domains on a single server. It has the feature of an Addon domain under the DOMAINS section, with which you can add more domains in your single cPanel. So, if you have multiple websites, hosting more than one website in this way can be very cost-effective.
However, being cost-effective, one of the main pitfalls is that all domains use the same cPanel. For now, there are no options for creating multiple admin users in cPanel. So, when you are configuring hosting for others, you can only provide them "master access" to cPanel. Thus, when anyone else except you are using the same cPanel, one mistake or another can cause a problem in losing your data. So, you must be careful and keep your files backup, database backup, and email backups from cPanel. 
As mentioned above, You can control multiple domains from a single cPanel account by using Addon domains. You can link a new domain name to your account's home (document root) directory and then store its files there.
So, let's know how you can host multiple domains and add new email addresses and FTP accounts under this new address.
How to host multiple domains (Addon) on a Single CPanel ?
Step-1 Click the 'Addon Domains' in the 'DOMAINS' section.
Step-2 Addon page appears like below and sets up additional domains here.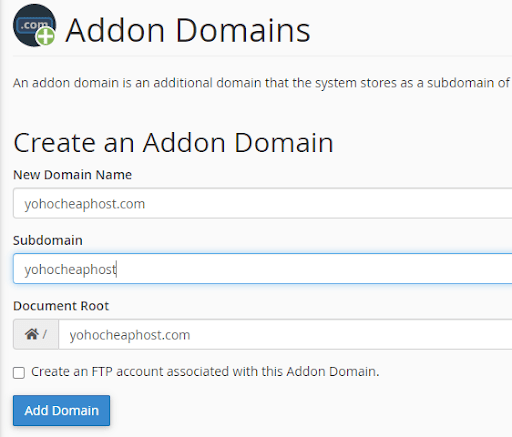 Step-3 Enter the new domain name and a unique subdomain name. Then, create a subdirectory for it on your account's home directory (above public_html). The addon domain's files are kept in this subdirectory.
(Note: Subdomain and document root are auto-filled so you can leave it as it is.)
Step-4 If you want to give your web developer FTP access to this addon domain, please choose 'Create an FTP account associated with this addon domain' and input a username and password you want.
Step-5 Click the Add Domain button to finish.  A new add-on will be created.
There you go! Now you know how to create addon domains in cPanel, so like this, you can add on multiple domains and find your list of addon domains in the cPanel > Addon Domains area. You can manage or delete domains as per your need. Yoho.cloud has multiple domain hosting plans in Nepal.