New Year Sale
12

Hour

54

Minutes

32

Sec
It's New Year Sales at Yoho.Cloud! Get up to 50% OFF hosting plans!
Fast. Reliable.Cloud Hosting
Grow your business on Nepal's best cloud hosting in Nepal designed to scale.We're offering a premium hosting experience at a great price. We hope you can join us on our journey.
#1
Budget Cloud Hosting
We managed our cluster on premium cloud platform with robust technology for best in class performance.
1K+
Supercharged
Websites
We are Nepal's leading independent web hosting company proudly powered 1000+ websites and counting.
24/7
Real-time Expert
Support
Award-winning Support via Ticket, Live Chat & Phone Our technical support team are on hand 24 hours a day, 7 days a week.
High performance Cloud hosting
Here at Yoho.Cloud, we pride ourselves on doing things a little differently. Whether it's the blazing fast speed of our platform, the cutting-edge features we include for free, or our award-winning in-house support team, we strive to stand out from the crowd.
All our servers are the latest spec and Cloud infrastructure enables us to continuously update our hardware without affecting your service. Additionally, it is fully redundant, allowing us to provide a 99.9% uptime guarantee.
The cPanel control panel is perfect for both beginners and experts. With a few clicks you can create and manage email accounts, install WordPress or Magento, browse your website files, set up additional domains and redirects, and much more. You'll quickly get used to the intuitive and powerful user interface, which will become the center of your hosting experience.
We take the security of our systems and your data seriously, and our team is trained in best security practices. We continuously monitor all files on your account for changes, and if we detect any suspicious activity, we take immediate action to protect your data.
The Only Web Hosting Package You'll Need
Ensure Maximum Security
Designed on highly secured cloud infrastructure
100% Moneyback Guarantee
30 days Moneyback Gauranteed with every cloud hosting plans.
Maximum Performance
Litespeed Enterprise Web Server for high performance.
Maximum Data Transfer
Unlimited Data transfer for high traffic Websites.
Get Nepal's Unlimited cloud
Hosting instantly
We only use enterprise grade SSDs for the highest performance and longest lifetime to ensure your data is protected. We also backup your data daily and store it offsite for extra security and protection against user error.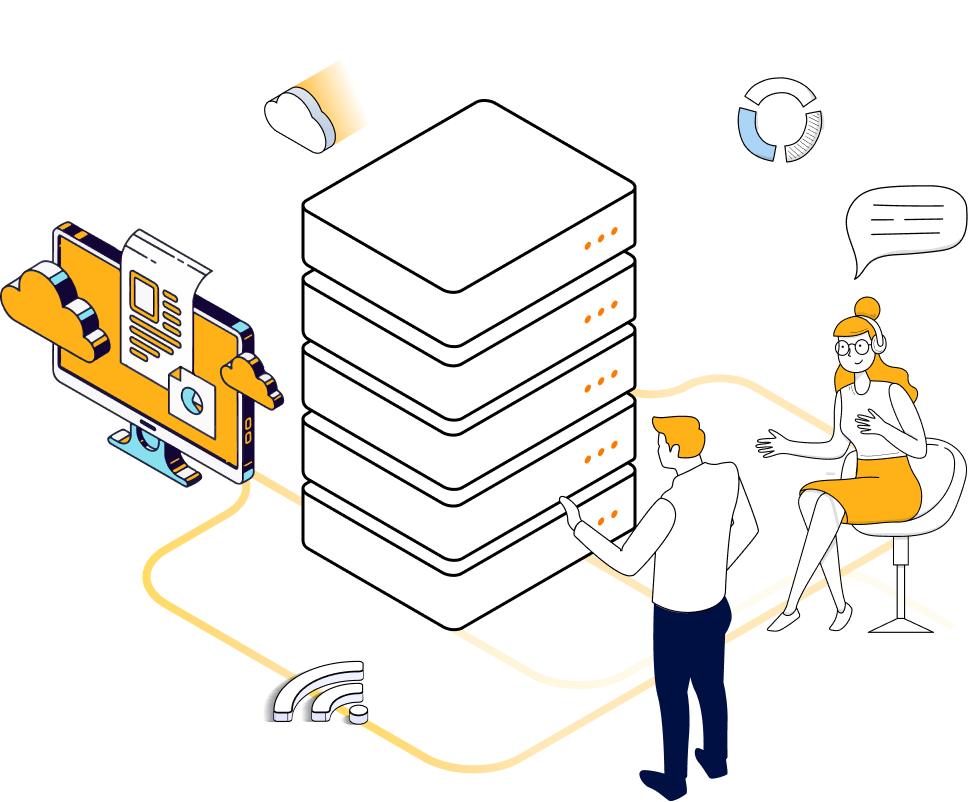 Why host with Yoho.Cloud
We're one of TrustPilot's highest rated affordable website hosts. Our features are reliable and fast, and our support is dependable. Thousands of customers have made the right choice by choosing us – hosting done right.
No Setup Fees or Contracts
You can pay for our services monthly or yearly, without any hidden fees, setup fees, or contracts. Our pricing is transparent, consistent, and fair.
Free Migrations
All of web hosting come with free migrations for our users from any other host. Moving hosts can be tough, so let our engineers do this for you.
Free LetsEncrypt SSL
Our service provides free and automatic SSL from LetsEncrypt for all domains. Certificates are installed and renewed automatically.
30 Day Money Back Guarantee
If you're not happy with our service for any reason, just let us know within the first 30 days and we'll give you a full refund.
DDoS Protection
Our systems constantly monitor the network edge for traffic flow and detecte attacks. This cleans the traffic and only allows legitimate traffic through.
24x7 Technical Support
When you need help with a problem, you will always speak to a native English speaker who is able to fully resolve the issue. We have never outsourced our support staff, and we never will.
More Powerful Web Hosting in Nepal
Save 20%
Lite Plan
When you need just one site
1GB SSD Storage
Cpanel Control
WordPress Integration
Free SSL Certificate
Daily Backup
Undeterred Data Transfer
Emails
Litespeed Web Server
Save 50%
Starter Cloud
Single Domain
Free Domain - 1 year
Free CDN included
WordPress Integration
Free SSL Certificate
Unlimited SSD Storage
Undeterred Data Transfer
Daily Backup
WordPress Optimized Environment
Save 20%
Turbo Cloud
Unlimited Websites
Free Domain - 1 year
Free CDN included
WordPress Integration
Free SSL Certificate
Unlimited SSD Storage
Undeterred Data Transfer
Daily Backup
WordPress Optimized Environment
Check our Happy Customers have to say about us.

To be honest I like their nature of supporting client to resolve their problem. They replied at a mean time and initiate to solve my problem as i create support ticket. Thank you for resolving my problem and hope to have same.

The server is amazing, and the support is better.Yoho.cloud give all i need with a best support ever. the team help with all my questions and every time someone help really fast & amazing price.

My Wordpress website has a security issue related to the malware and the team fix the issue going beyond the hosting support and that what Yoho Cloud impresses me ,
Thanks
Free Migration
to Yoho
.

Cloud



Unlimited Free Migrations & Free SSL Certificates
Sign up Now
Contact Support & Schedule
If you already have a website, we will migrate it at no cost to you.You can contact our support team via chat/call and schedule your migration smoothly.
Data Migration & Free
Allow us to alleviate your concerns and take on the workload. Our committed migrations team will manage the process of transferring your websites for you.
DNS Clustering
We use Anycast DNS cluster for smooth and handy integration so you can update the nameserver provided regardless of our Master IP.It is configured for geolocation based DNS for failover.
Website Monitoring & Validation
Our Expert Migration team will look for data redundancy after migration and also recommend website owner to cross check the data and report if anything is missing during migration.
Finding it hard to choose a plan?
We can help
Tell us the intended purpose of your website, and we'll suggest our top hosting recommendation. Alternatively, you can reach out to our sales team for personalized guidance.
Frequently asked questions about our hosting
Whether you choose WordPress hosting or shared hosting, it all depends on your business type, budget, and resources you will require.
Learn about WordPress hosting and Shared hosting and decide on your own.
A significant portion of the web is powered by WordPress - more than 30 percent. WordPress is the first choice of every web designer, to begin their career in the web. It is not only the best option for a web designer but also for a website owner as it provides new features and feasibility.
WordPress is a free, easy-to-use, and open-source platform. With WordPress' powerful features and easy-to-use capabilities, you can create a custom, high-performance website. Additionally, you can customize the features, take advantage of open-source flexibility, and connect with a community of web developers to seek help if you get stuck.
Consider your business and business size along with the type of website you want. Your hosting plan depends on your business needs, so check out the Cloud hosting plans and choose one that best suits your business.
Else if it doesn't work then you can switch to business hosting plans for your business.
If you would like an SSL certificate installed on your Cloud Hosting package, please contact our support team or you can install SSL on your Cpanel yourself.
We care about safety big time — and so do your site's visitors. With a Shared Hosting account, you get an SSL certificate for free to add to your site. In this day and age, having an SSL for your site is a no-brainer best practice. Not only does an SSL help your visitors feel safe interacting with your site — this is particularly important if you run an e-commerce site.
Yoho.Cloud is a comprehensive website performance optimization and uptime monitoring solution that website owners are choosing for several reasons:
Improved Website Speed: Yoho.Cloud uses advanced optimization techniques to improve website speed, including image optimization, code minification, and content delivery network (CDN) integration. This results in faster page load times, which improves user experience and can lead to higher search engine rankings.
Enhanced Uptime Monitoring: Yoho.Cloud provides real-time monitoring of website uptime, and instantly notifies website owners if their website goes down. This ensures that website owners can take immediate action to resolve any issues, which helps to minimize website downtime and prevent lost revenue.
Simplified Management: Yoho.Cloud provides a user-friendly dashboard that makes it easy for website owners to manage their website performance and uptime. With Yoho.Cloud, website owners can easily access detailed reports, track website performance trends over time, and make informed decisions about how to optimize their website.
Affordable Pricing: Yoho.Cloud offers affordable pricing plans that are designed to meet the needs of businesses of all sizes. This makes it an ideal solution for small businesses and startups that are looking for a cost-effective way to improve website performance and uptime.