Introduction to Landing Page Builders
For the uninitiated, landing page builders seem like just another complicated element of Internet technology. However, a proper understanding of these tools and their benefits could be a game-changer in one's online marketing strategy.
In essence, a landing page builder is software that enables users to design and customize landing pages without having to do any coding. Imagine creating your visually striking and highly functional landing page without needing any technical skills – that's the power of a landing page builder.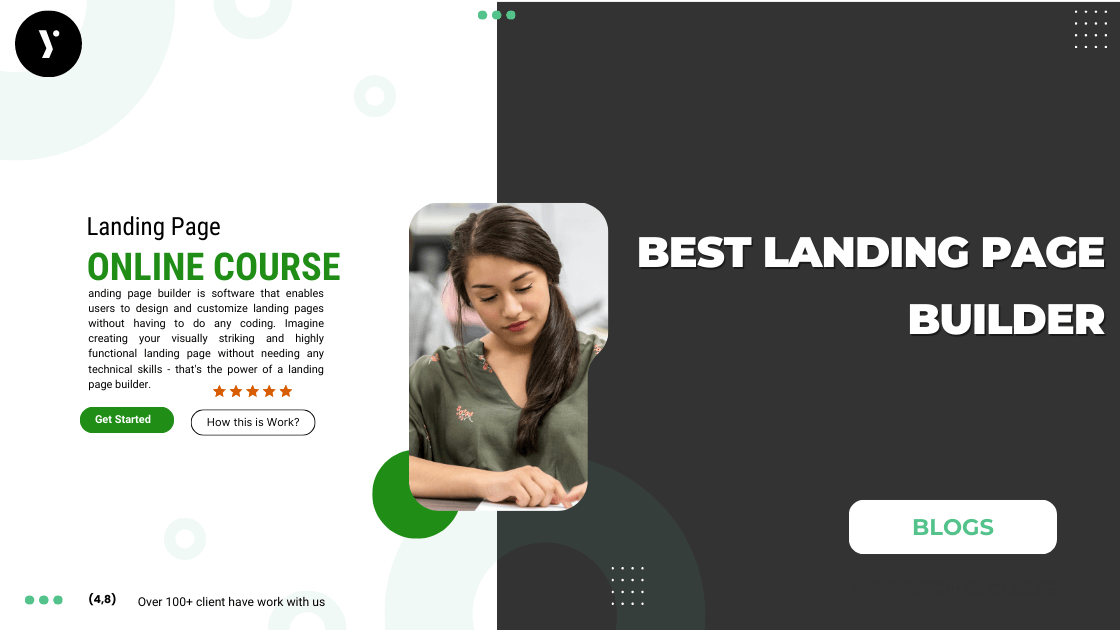 Explanation of what a landing page builder is and its benefits
Defining A Landing Page Builder: A landing page builder provides an all-in-one platform for designing, building, and optimizing landing pages. These tools help to streamline the process of creating landing pages, which are predominantly used for marketing or advertising campaigns.
Benefits – Being Cost-effective: One of the most significant advantages of using a free landing-page builder is the cutback on costs. It provides a perfect option for startups or small businesses on a tight budget, who still want to market their products efficiently.
Ease-of-use: Another benefit of using a free landing-page builder is its simplicity. These tools have been designed with the user in mind, often featuring drag-and-drop interfaces that make it straightforward to build beautiful, responsive pages.
Potential for Higher Conversions: With powerful features such as A/B testing, advanced analytics, and built-in SEO modifications, free landing-page builders might significantly enhance conversions.
Broad Customization Options: Free landing-page builders also offer hundreds of templates making it convenient for businesses to customize according to their brand identity.
However desirable using free landing page builders might seem, understanding your business needs is crucial when selecting an appropriate one — factors such as flexibility, features offered, ease of use and compatibility with other systems should be considered before making the final decision.
Wix
Famed for rendering excellent website design services, Wix grabs the limelight when discussing reliable free landing page builders. Ideal for entrepreneurs eyeing a prominent digital presence without breaking the bank, Wix ensures they can corner significant online market share with stunning landing pages.
Overview of Wix landing page builder
Wix is a fundamental platform smoothening the road to designing landing pages for business owners and industry professionals alike. The users can handpick their go-to designer from an extensive template catalog provided by Wix. Furthermore, by equipping marketers with easy customization ‒ thanks to its drag-and-drop assembly ‒ they can arrange and rearrange design elements with utmost simplicity. It allows them to get their picture-perfect webpage, thereby aiding them in achieving their conversion targets.
All things considered, Wix bestows a smooth, budget-friendly path to creating landing pages that are visually fruitful, engaging, and high-converting.
Features and customization options offered by Wix
Thanks to its user-friendly interface, Wix outshines its competitors in the marketplace. The platform is studded with noteworthy features such as free hosting, SEO tools, mobile optimization, and performance analytics metrics that can tremendously boost a marketer's campaign success rate.
Its vast library of templates enables marketers to customize their website meticulously without any technical hurdles. They can select themes based on their industry type or can fiddle around with its intuitive website builder for a more personalized look.
Furthermore, Wix also includes video background capabilities and parallax scrolling options to make web pages more dynamic and interactive. Its mobile optimization feature ensures webpages render beautifully on all devices.
In conclusion, investing time in creating a compelling landing page with Wix will indubitably pay an instrumental part in helping entrepreneurs convert their website visitors into potential customers. Not only does it provide them the freedom to experiment with multiple design elements but it also caters to ever-evolving marketing strategies seamlessly. Consequently, business entities opting for this powerful tool will indubitably see their digital marketing aspirations translate into reality more effectively.
WordPress
The highly reputable WordPress takes the lead in content management systems (CMS) and equally matters to the realm of free landing page builders. For those yearning to add advanced forms, pop-up overlays, layout functionalities, or tracking scripts to landing pages without delving into HTML/CSS intricacies, WordPress landing page builder is the tool to harness.
WordPress landing page builder overview
Being a pioneer in the CMS field, WordPress offers extensive capabilities for content creation, inclusive of landing pages. Of particular mention is the WordPress's in-built page editor – Gutenberg. It's designed with the user-friendly blocks system for seamless experience in editing or creating content. Gutenberg's flexibility makes designing a robust landing page a breeze. However, there's no shortage of third-party WordPress plugins such as Beaver Builder and Elementor that offer even more customization freedom.
Integration with WordPress themes and plugins
WordPress provides phenomenal freedom when it comes to integrations. It allows for seamless compatibility with an assorted range of complementary solutions which amplifies its utility ten-fold. You can match it up with an array of WordPress themes that resonate with your brand design or business needs.
Moreover, there's excellent compatibility with numerous plugins that further extend the functionality and reach of your landing pages. The Yoast SEO plugin facilitates optimized content creation and improves your site's visibility on search engines. WooCommerce permits an online shop implementation right within your website while Contact Form 7 ensures effective form creation in your funnel-related needs.
In essence, using WordPress as a free landing page builder opens up infinite opportunities, stretching from creating attractive pages that convert visitors to coupling it with riveting forms and SEO tools to achieve desired marketing outcomes.
Regardless of whether you are an SME proprietor desiring better conversion rates or a marketer seeking efficient campaign execution – embarking on the journey with WordPress for your landing pages will inevitably take your venture to new heights.
Squarespace
Squarespace, a leading website creation platform, also prominently features in the sphere of free landing page builders. It offers a set of features that not only facilitates the process but also provides ample room for customization to match your unique business style. Perfect for businesses that value aesthetics and functionality, Squarespace landing page builder comes with a variety of tools.
Squarespace landing page builder features
Squarespace's landing page builder exhibits some remarkable capabilities and features. Primarily, it includes pre-made templates that users can easily customize. The drag-and-drop functionality makes moving elements around the page straightforward, providing users with control over intuitively arranging their design and layout.
Businesses could greatly benefit from its built-in SEO tools that improve searchability, ensuring your landing page doesn't drown in the digital abyss. Another advantageous feature is its analytics capabilities. It allows users to track visitors' habits and preferences, providing businesses with actionable insights to improve future performance.
Design templates and mobile responsiveness
A key strength of Squarespace's landing page builder resides in its wide array of design templates. Professionals seeking high-quality and aesthetically pleasing designs can select from numerous options that cater to various industries.
Furthermore, all Squarespace templates boast mobile responsiveness—an indispensable aspect in today's mobile-first landscape. This feature ensures that your landing pages look and function optimally regardless of the viewer's device.
In conclusion, Squarespace offers more than just a free landing page builder. It houses a suite of features capable of elevating your business presence online. Whether you're stepping into the digital world or looking to enhance your current online presence, Squarespace proves to be a viable option worth considering.
Leadpages
When it comes to building a website or creating landing pages, Leadpages is one of the industry leaders. Its easy-to-use drag-and-dropbuilder not only caters to beginners but also allows more experienced users to customize and innovate.
Leadpages landing page builder overview
Leadpages provides its users with a plethora of pre-designed, mobile-responsive templates. The choices cater to a broad range of industries, allowing marketers to find the perfect fit for their brand image. With these templates, one can easily create professional-quality landing pages without any prior coding experience.
The builder also allows users to customize their page fully, be it fonts, colors, or images, crafting a visually appealing interface that captively conveys your message. Additionally, the platform supports integration with numerous third-party applications like MailChimp, Google Analytics, and Salesforce, aiding seamless marketing efforts.
Conversion optimization tools and analytics
What separates Leadpages from other landing page builders are the advanced conversion optimization tools. A significant feature is the A/B testing tool that enables marketers to test different versions of a landing page and analyze each variant's performance. Moreover, the platform also offers 1-click sign-up links and automatic email triggering for efficient lead capture.
Another impressive aspect is Leadpages' robust analytics suite. The dashboard offers insightful data about the landing pages' performance, such as conversion rates and visitor behavior but does not stop there. Built-in SEO features assist in improving visibility on search engines and drawing more organic traffic.
Lastly, all Leadpages packages come with unlimited traffic and leads. Therefore, even when you experience a surge in website visits- you never have to worry about additional costs.
In conclusion, if you're looking for an intuitive yet feature-loaded landing page builder- Leadpages might just be your answer! It caters effectively to both beginners who want an easy way in and professionals who wish for more complex design options.
ClickFunnels
In the digital marketing sphere, ClickFunnels has secured itself a name as one of the premier solutions for entrepreneurs and marketers looking to convert site visitors into loyal customers and subscribers. The platform offers a suite of services, including a landing page builder that allows businesses of all sizes to create professional and high-converting landing pages, even with no coding skills. But what makes this free landing page builder irresistible?
ClickFunnels landing page builder features
The first cream of ClickFunnels is its easy-to-use interface. The drag-and-drop editor lets users customize their landing pages—even total beginners will find it easy to create with streamlined customization tools.
This feature goes hand in hand with a catalog of professionally designed templates that you can choose from. These are tailored to fit various industries and needs, ensuring your landing pages always resonate with your target audience.
Also, as a funnel-centric platform, ClickFunnels lets you work on entire funnels instead of individual pages. Their flagship Funnel Builder lets you craft entire sales funnels for webinar registrations, product launches, membership sites, and more.
An excellent addition to the ClickFunnels catalog is the A/B testing feature. This tool allows you to optimize your landing pages for maximum conversions by running tests at different stages of your funnels.
Easily integrate other essential marketing tools with ClickFunnels to extend its functionality, from email marketing solutions like AWeber or GetResponse to payment processors like Stripe or PayPal.
Lastly, analytics and reporting allow you to track your landing page performance against key metrics—clicks, conversion rates, user activities—giving you insights into customer behaviors and preferences.
Using free landing page builders like ClickFunnels is undeniably an effective way to enhance your marketing efforts. By offering an array of features designed to optimize conversions and improve user engagement, it undoubtedly can become the catalyst for your business' growth.
While these features justify why ClickFunnels remains popular among businesses, the fact that anyone—with no knowledge in computer programming—can build high-converting landing pages makes it a considerable asset.
Instapage
In the current digital environment, creating a conversion-optimized landing page is a priority. It's a necessity for driving online marketing success, and that's where Instapage comes in. Instapage is an advanced landing page builder native to the digital marketing landscape.
Instapage landing page builder overview
Instapage prides itself on being able to effectively streamline the landing page development process. As an advanced platform, it has over a million landing pages to its name. This is largely due to its inherent user-friendly dashboard and massive selection of customizable templates designed to streamline design and boost conversion rates.
With Instapage, users can easily integrate their landing pages with other software tools like Marketo, Salesforce, and Google Analytics. This allows for seamless tracking and assessment of performance analytics. Furthermore, features such as A/B testing provide users with the necessary functionality to optimize their campaigns for better results continually.
Drag-and-drop editor and collaboration features
One of Instapage's significant selling points is its drag-and-drop editor which eliminates the need for coding skills in the design process. Users can intuitively select, drag, and drop different elements to create tailored, professional-grade landing pages.
Another notable feature of this platform is its strength in facilitating collaboration. Team members can effortlessly work together on the combined (or individualized) development of aesthetically pleasing and effective landing pages while maintaining version control at all times.
In summary, Instapage stands as an array of powerful tools designed to foster higher conversion rates. Its easy-to-use interface coupled with efficient collaboration features make it ideal for both newbies and professionals aiming to maximize their online marketing efforts.
By employing tools like Instapage in overall marketing strategies, businesses from small startups to large corporations increasingly leverage the potential of effective landing page design for audience engagement and ultimately, enhanced branding visibility.
ConvertKit
Overview of ConvertKit landing page builder
ConvertKit offers an easy-to-use, free landing page builder that is perfect for small businesses, freelancers, and entrepreneurs looking to create professional and effective landing pages. With its intuitive interface and user-friendly features, ConvertKit makes it simple to design and publish landing pages that convert visitors into leads and customers.
Features and templates offered by ConvertKit
When it comes to features, ConvertKit delivers in spades. Here are some of the standout features that make it a top choice for those in need of a free landing page builder:
Drag-and-Drop Editor: ConvertKit's drag-and-drop editor allows users to easily customize their landing pages with text, images, forms, buttons, and more. No coding experience is required.
Responsive Templates: ConvertKit provides a wide selection of responsive templates that are designed to look great on any device. These templates are fully customizable, allowing you to add your own branding elements and tailor them to your specific needs.
Integration with Email Marketing: With ConvertKit's seamless integration with their email marketing platform, you can easily capture leads through your landing pages and add them to your email list for future marketing efforts.
Data Tracking and Analytics: ConvertKit offers built-in data tracking and analytics that allow you to monitor the performance of your landing pages. You can view metrics such as conversion rates, traffic sources, and user behavior to optimize your pages for better results.
A/B Testing: Want to find out which version of your landing page performs better? ConvertKit's A/B testing feature allows you to create multiple variations of your page and test them against each other to see which one converts more effectively.
Custom Domain Names: With ConvertKit, you have the option to use your own custom domain name for your landing pages, giving your brand a more professional and polished look.
SEO-Friendly: ConvertKit's landing pages are optimized for search engines, helping to improve your visibility and attract more organic traffic to your business.
Whether you're looking to generate leads, sell products, promote a service, or grow your email list, ConvertKit's free landing page builder has all the features you need to create professional and high-converting landing pages. Its easy-to-use interface and robust set of tools make it a top choice for businesses of all sizes.
In conclusion, if you're in need of a powerful yet free landing page builder that offers customization options, integration with email marketing, data tracking and analytics, A/B testing, and more, ConvertKit is worth considering. Give it a try and see how it can help take your business to new heights.
Mailchimp
For businesses and individuals looking to create a professional landing page without breaking the bank, Mailchimp offers an excellent solution. With its user-friendly interface and powerful features, Mailchimp's landing page builder is a fantastic tool for enhancing your online presence and attracting potential customers.
Mailchimp landing page builder overview
Mailchimp's landing page builder is designed to help you effortlessly create stunning, high-converting landing pages. Whether you're promoting a product, capturing leads, or driving traffic to your website, this tool offers a variety of templates and customization options to meet your specific needs.
The interface is intuitive and easy to navigate, making it accessible to users of all technical skill levels. You don't need any coding or design experience to create a professional-looking landing page. Simply choose a template, add your content and images, and customize the colors and fonts to match your brand identity. You can also add forms, buttons, and other interactive elements to optimize conversions.
Integration with email marketing campaigns
One of the standout features of the Mailchimp landing page builder is its integration with email marketing campaigns. With Mailchimp's powerful email marketing tools, you can seamlessly connect your landing pages to your email list and automate your marketing efforts.
By capturing visitor information through your landing page forms, you can grow your email list and nurture leads effectively. Additionally, you can set up automated email sequences triggered by specific actions taken on your landing pages. This integration ensures a cohesive customer journey from the moment they land on your page to the point of conversion.
Furthermore, Mailchimp provides advanced analytics to help you track the performance of your landing pages. You can monitor metrics such as conversion rates, bounce rates, and user behavior to optimize your pages and drive better results.
Whether you're a small business owner, a freelancer, or an entrepreneur looking to launch a new product, Mailchimp's landing page builder is a valuable tool in your digital marketing arsenal. It empowers you to create visually appealing and highly functional landing pages that drive conversions and ultimately grow your business.
In conclusion, Mailchimp's landing page builder offers a comprehensive and user-friendly solution for building professional landing pages. With its integration with email marketing campaigns, you can seamlessly capture leads and automate your marketing efforts. By leveraging the power of this tool, you can enhance your online presence and attract more customers to your business. So why wait? Start using Mailchimp's landing page builder today and take your marketing efforts to new heights.
Unbounce
Unbounce landing page builder overview
Unbounce is a leading online landing page builder that helps businesses create high-converting landing pages without the need for coding skills. It offers a user-friendly interface and a wide range of customization options to help businesses create unique and effective landing pages.
With Unbounce, users can choose from a variety of professionally designed templates or build their own from scratch. The drag-and-drop editor makes it easy to add elements such as text, images, videos, and forms to create engaging and visually appealing landing pages.
One of the standout features of Unbounce is its A/B testing capability. This allows users to test different variations of their landing pages to determine which version performs better in terms of conversion rates. By testing different headlines, images, and calls-to-action, businesses can optimize their landing pages for maximum results.
A/B testing and customization options
Unbounce offers extensive customization options, allowing businesses to create landing pages that align with their brand identity. Users can easily modify font styles, colors, layouts, and backgrounds to create a cohesive and visually pleasing design.
In addition to customization options, Unbounce provides advanced targeting features. Users can create dynamic text replacement and personalization based on visitor attributes to deliver a more personalized experience for each visitor. This level of customization helps increase engagement and conversion rates.
With Unbounce's comprehensive analytics tools, businesses can track important metrics such as page views, conversions, and bounce rates. This data provides valuable insights into the effectiveness of landing pages and helps businesses make data-driven decisions for optimization.
Another advantage of Unbounce is its integration capabilities. It seamlessly integrates with popular marketing tools such as email marketing platforms, CRM systems, and analytics platforms. The integration allows businesses to streamline their marketing efforts and gather all the necessary data in one place.
Moreover, Unbounce offers responsive design options, ensuring that landing pages are optimized for different devices and screen sizes. With more than 50% of internet traffic coming from mobile devices, this feature is essential to provide a seamless user experience and maximize conversions.
In conclusion, Unbounce is a powerful and user-friendly landing page builder that helps businesses create effective landing pages without the need for coding skills. With its A/B testing and customization options, businesses can optimize their landing pages for better conversions. Integration capabilities, analytics tools, and responsive design options make Unbounce a comprehensive solution for businesses looking to create high-converting landing pages.
Swipe Pages
For anyone looking to create professional and impactful landing pages without breaking the bank, Swipe Pages is the go-to online tool. With its user-friendly interface and extensive range of features, this free landing page builder is a game-changer for businesses of all sizes.
Swipe Pages landing page builder overview
Create Stunning Landing Pages: Swipe Pages provides a wide array of templates, allowing users to design beautiful landing pages that capture the attention of their target audience. These templates are fully customizable, giving you complete control over the look and feel of your page.
No Coding Required: Even if you have no coding experience, Swipe Pages makes it easy to build landing pages that are both visually appealing and functional. Its drag-and-drop functionality allows you to add elements, rearrange sections, and customize your page layout with ease.
Optimize for Conversion: Swipe Pages understands the importance of driving conversions. With its built-in A/B testing feature, you can easily test different variations of your landing page and determine which ones yield the best results. This allows you to make data-driven decisions and optimize your page for maximum conversion rates.
Mobile Responsive: In today's mobile-driven world, having a mobile-responsive landing page is essential. Fortunately, Swipe Pages has got you covered. All templates are optimized for mobile devices, ensuring that your page looks great and functions seamlessly on any screen size.
Integrations: To streamline your workflow and enhance your marketing efforts, Swipe Pages seamlessly integrates with popular third-party platforms such as Mailchimp, HubSpot, and Google Analytics. This allows you to easily capture leads, track conversions, and manage your campaigns all in one place.
Analytics and Reporting: Understanding how your landing pages are performing is critical for success. Swipe Pages provides comprehensive analytics and reporting tools that give you valuable insights into your page's performance. You can track metrics such as page views, click-through rates, and conversion rates, allowing you to make data-driven decisions and optimize your campaigns for better results.
Collaboration Made Easy: With Swipe Pages, collaboration is a breeze. You can easily share access with team members or clients, allowing everyone to collaborate on the design and content of your landing pages. This streamlines the review and approval process, ensuring that your pages are ready to go live in no time.
In conclusion, if you're in the market for a free landing page builder that is user-friendly, packed with features, and optimized for conversions, look no further than Swipe Pages. It provides all the tools you need to create stunning landing pages that drive results and help grow your business. So why wait? Start building your next high-converting landing page with Swipe Pages today!
Comparison of Wix, WordPress, Squarespace, Leadpages, ClickFunnels, Instapage, and Unbounce
When it comes to website creation and landing pages, one-size-does-not-fit-all. Each platform has its strengths and unique selling points.
Wix is known for its user-friendly and intuitive interface with a drag-and-drop builder for seamless customization. WordPress, while originally designed as a blogging platform, has evolved into a robust website builder with plugins like Elementor catering specifically to landing pages. Squarespace offers award-winning designs and sophisticated aesthetics that caters to creatives.
In contrast, LeadPages focuses heavily on conversions – exceptional for marketers seeking optimized landing pages. ClickFunnels streamlines the entire sales funnel journey, from initial interest to the sale stage.
Meanwhile, Instapage facilitates personalized, highly-targeted landing pages with powerful A/B testing capabilities. Lastly, Unbounce excels in A/B testing but also features Dynamic Text Replacement optimizing PPC campaigns.
Factors to consider when choosing a landing page builder
Choosing the right platform depends on your business needs. Ease of use might triumph for those less tech-savvy while in-depth analytics could be key for more experienced marketers.
The fundamental features you should consider include design capabilities allowing brand consistency across different layouts. Integration with other marketing tools such as email software or CRM systems can enhance marketing efforts too.
Even more crucially, you need SEO features and responsive design for better reach and visibility across devices in this mobile-first era.
Finally, pricing should also be considered – while some of these platforms offer free entry tiers or trials, when it's time to upgrade ensure that the pricing plans are within your budget scope but still meet your business needs.
In conclusion, free landing page builders provide the tools needed to aid businesses in creating attractive landing pages that can drive conversions effectively and efficiently.